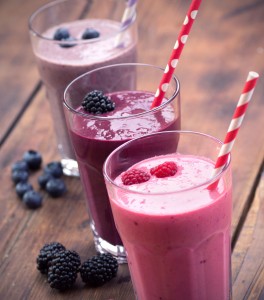 Smoothies are delicious! Here's a great way to increase omega-3 intake and beyond!
12 oz ice water, or cold almond or coconut milk beverage
4 Tbsp. hemp or pea/rice protein powder
1 Tbsp. hemp seeds
1/2 cup frozen strawberries
1/2 frozen banana or frozen acai
1 Tbsp. flax seed oil
1/4 cup pomegranate juice – this really adds a flavor punch
handful of fresh spinach (you won't taste it!)
Here is a meal that is packed that is a nutrition powerhouse!  Make it and split it with a loved one for a snack.  Experiment with different fresh or frozen fruits.
-Lauren Kanzler is a board-certified nutritionist who writes about food and health. She is passionate about working with clients to support them in their health goals. Reach out to me anytime! laurenkanzler [@] gmail.com if you want help thinking about food differently.